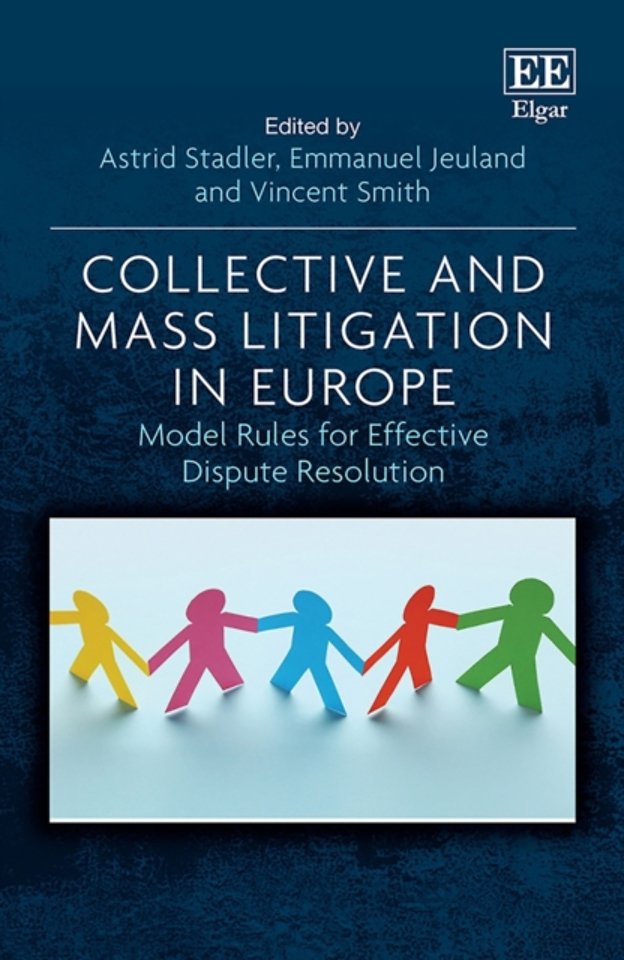 Astrid Stadler, Emmanuel Jeuland, Vincent Smith
Collective and Mass Litigation in Europe
Model Rules for Effective Dispute Resolution
Specificaties
Gebonden, 400 blz. | Engels
Edward Elgar Publishing | 1e druk, 2020
ISBN13: 9781789906042
Edward Elgar Publishing
1e druk, 2020
9781789906042
Verwachte levertijd ongeveer 8 werkdagen
Samenvatting
Written by leading authorities in the field of European civil procedure and collective redress, this timely book explores the model collective proceedings rules in the ELI/UNDROIT European Rules of Civil Procedure. It explains the intended application of this 'best practice' set of collective redress rules, intended to promote greater consistency in civil and commercial court procedure across Europe, linking to existing European practice and initiatives in the field.
Chapters investigate important issues for mass and collective actions including certification of actions as suitable for collective treatment, collective settlement, costs and funding. Concluding with insights from class action experts outside Europe, this incisive book provides objective perspectives on this rapidly developing area of European legal practice and proposes areas where these rules may influence class actions internationally.
Collective and Mass Litigation in Europe will be a key resource for scholars and students of collective redress and civil procedure. The commentary on this significant benchmark in collective redress litigation will also be of benefit to policy makers, judges and legal practitioners involved in mass claims.
Specificaties
Verschijningsdatum:
30-11-2020
Inhoudsopgave
1. General introduction
Astrid Stadler, Emmanuel Jeuland and Vincent Smith

2. The concept of 'party'
Emmanuel Jeuland

3. Joinder, consolidation and group claims
Vincent Smith

4. Change of parties: representation, substitution, assignment
Emmanuel Jeuland

5. Introduction: collective redress
Astrid Stadler, Emmanuel Jeuland and Vincent Smith

6. Type of claim, structure and certification of collective proceedings
Astrid Stadler

7. Legal standing in collective redress
Ianika Tzankova

8. Case management and the role of the judge
Magne Strandberg and Vincent Smith

9. Evidence in collective redress proceedings under the ERCP
Fernando Gascón Inchausti

10. Calculating compensation in collective redress claims
Nils von Hinten-Reed

11. Collective settlements
Astrid Stadler

12. Costs and funding of collective redress proceedings
Stefaan Voet

13. Cross-border issues
Michael Stürner

14. ERCP collective redress and the wider world
Astrid Stadler, Emmanuel Jeuland, Vincent Smith, Richard Marcus, Peter Cashman, Choong-soo Han and Hermes Zaneti Jr.

Index
Mensen die dit boek kochten, kochten ook...