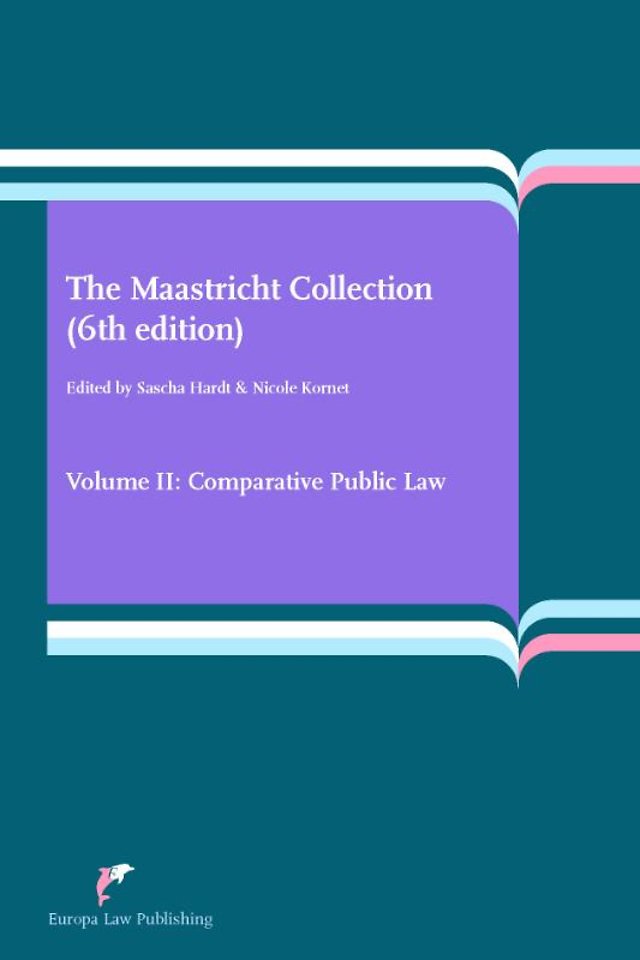 Sascha Hardt
Sascha Hardt is Assistant Professor of Comparative Constitutional Law at Maastricht University. Meer over de auteurs
Sascha Hardt, Nicole Kornet
The Maastricht Collection (6th edition) Volume II
Comparative Public Law
Specificaties
Paperback, 314 blz. | Engels
Europa Law Publishing | 1e druk, 2019
ISBN13: 9789089522160
Europa Law Publishing
1e druk, 2019
9789089522160
Op voorraad | Op werkdagen voor 21:00 uur besteld, volgende dag in huis
Samenvatting
The Maastricht Collection comprises a broad selection of legal instruments and provisions that have proven to be particularly relevant and useful to students and practitioners of international, European, and comparative law. The compilation is based on the long-standing expertise in teaching and researching European, international, and comparative national law at Maastricht University's Faculty of Law. It includes codes and statutory legislation from France, Germany, the Netherlands, and the United Kingdom, international treaties and instruments of international organisations, as well as the Treaties and selected secondary legal instruments of the European Union.
The provisions contained in The Maastricht Collection are reproduced in the original English or in the authentic English version, where applicable, or they are freshly translated under critical editorship. Many existing translations of written law, including officious translations available on government websites, are significantly out of date and not sufficiently faithful to the original. They often seek to turn old-fashioned or ambiguous original texts into modern and elegant English. Or, instead of translating, they seek to explain how certain terms or formulations are interpreted in practice.
The translations contained in The Maastricht Collection remain true to the content, style, and syntax of the original as far as possible, allowing the reader to appreciate not only the substance but also the authentic form of legal sources. Next to a comprehensive update and revision of all the instruments contained in The Maastricht Collection, this sixth edition also contains a number of useful additions, such as legislation relating to Brexit and statutory legislation on criminal procedure. With these updates and additions, The Maastricht Collection now presents itself as an even more comprehensive resource for students of European, international, and comparative law.
The sixth edition is divided into four reader-friendly volumes:
Vol. I – International and European Law
Vol. II – Comparative Public Law
Vol. III – International and European Private Law
Vol. IV – Comparative Private Law
The four volumes of The Maastricht Collection are available both separately and as a complete set.
Over Sascha Hardt
Sascha Hardt is Assistant Professor of Comparative Constitutional Law at Maastricht University.
Andere boeken door Sascha Hardt
Over Nicole Kornet
Nicole Kornet is Senior Lecturer in Commercial Law at Maastricht University and programme coordinator of the European Law School.
Andere boeken door Nicole Kornet
Inhoudsopgave
Preface to the sixth edition
Contents
Volume II: Comparative Public Law

PART I Constitutional Law
France: Declaration of 1789 2
France: Preamble of 1946 4
France: Constitution 5
France: Electoral Code 22
Germany: Basic Law 25
German: Federal Elections Act 61
The Netherlands: Charter for the Kingdom 64
The Netherlands: Constitution 72
The Netherlands: Elections Act 85
United Kingdom: Bill of Rights 1689 88
United Kingdom: Parliament Act 1911/1949 90
United Kingdom: Human Rights Act 1998 92
United Kingdom: Constitutional Reform Act 2005 98
United Kingdom: Constitutional Reform and
Governance Act 2010 103
United Kingdom: Fixed-Term Parliaments Act 2011 105
United Kingdom: Scotland Act 1998 107
United Kingdom: Northern Ireland Act 1998 112
United Kingdom: Government of Wales Act 2006 122
United Kingdom: European Union (Withdrawal) Act 2018 130
United States: Constitution and Amendments 145

PART II Administrative Law
France: Code of Administrative Justice 156
France: Code of Relations between the Public and the
Administration 164
France: Decree of exceptions to the application of the
principle "silence amounts to acceptance" 166
Germany: Administrative Procedure Act 167
Germany: Administrative Court Procedure Act 178
The Netherlands: General Administrative Law Act 190
United Kingdom: Civil Procedure Rules 1998 212
United Kingdom: Tribunals, Courts and
Enforcement Act 2007 216
United Kingdom: Senior Courts Act 1981 222

PART III Criminal Law
France: Criminal Code 226
France: Code of Criminal Procedure 233
Germany: Criminal Code 237
Germany: Administrative Offences Act 246
Germany: Code of Criminal Procedure 247
The Netherlands: Criminal Code 255
The Netherlands: Code of Criminal Procedure 263
United Kingdom: Miscellaneous Criminal Law Statutes 270
United Kingdom: Miscellaneous Criminal
Procedure Statutes 275
EU: European Arrest Warrant 284
EU: Directive on Combating Terrorism 294
EU: Framework Decision on Freezing Orders 300
Aanbevolen live events...
Mensen die dit boek kochten, kochten ook...