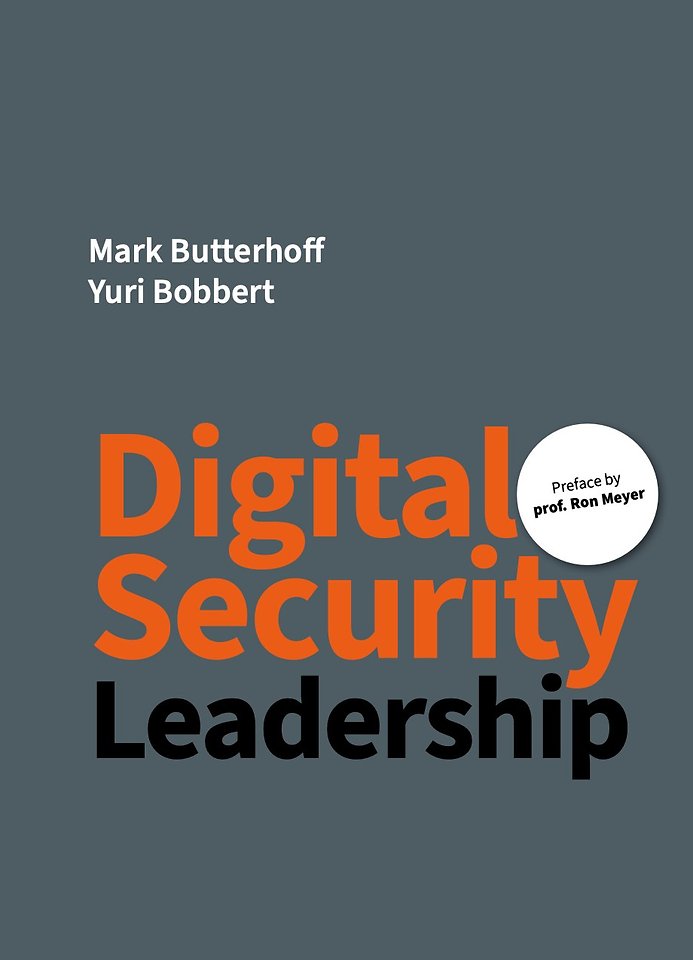 Yuri Bobbert
Prof. Dr. Yuri Bobbert is Chief Information Security Officer at ON2IT, a global cybersecurity player, and professor at Antwerp Management School (AMS). Meer over de auteurs
Yuri Bobbert, Mark Butterhoff

e.a.
Leading in Digital Security
Twelve ways to combat the silent enemy
Specificaties
Gebonden, 256 blz. | Engels
Bobbert & Butterhoff | 1e druk, 2020
ISBN13: 9789090335131
Bobbert & Butterhoff
1e druk, 2020
9789090335131
Verwachte levertijd ongeveer 8 werkdagen
Samenvatting
Over the years we've seen the digital security profession transformed into an overhyped and fuzzy domain that is often referred to as cybersecurity. Since many authors have written a great deal on this subject in books, journals, and social media blogs, our aim here is to enrich this field with our opinions, -viewpoints, and expertise.
Thanks to a combined total of forty-five years of experience – experience from our academic back grounds as well as from our work as security and tech leaders – we are able to focus on things that should work in theory but fail in practice due to all kinds of intangible, "silent" factors.
Our intention is not to be exhaustive, nor to criticize others, but to shed fresh light on crucial cyber-related allies, enemies, and issue that are rarely taken into account and talked about, but we believe -you should know to help you combat the silent enemy of digital security.
Specificaties
Verschijningsdatum:
19-10-2020
Expertrecensies
(1)
Leading in Digital Security - Gouden tips en waardevolle weetjes
Elly Stroo Cloeck | 2 april 2021
Over Yuri Bobbert
Prof. Dr. Yuri Bobbert is Chief Information Security Officer at ON2IT, a global cybersecurity player, and professor at Antwerp Management School (AMS). He is the former Group CISO of NN Group & UWV. Through his years of experience as an entrepreneur and manager within companies, he balances between practice and science. His first book was published in 2010 and the second in 2014 describing 25 companies that have applied his methods. In 2018 he published the book Critical success factors for effective business information security and the book "Cybersecurity in 60 minutes" for boards and supervisory bodies. Bobbert holds a double PhD from both the University of Antwerp and Radboud University in the Netherlands. In his dissertation about Maturing Business Information Security (MBIS) he describes both the managerial side of security as well as the technology to measure and administrate it.
Andere boeken door Yuri Bobbert
Over Mark Butterhoff
Mark is een management consultant, interim / program manager / CISO, docent, spreker en auteur met ruime ervaring in Information Security, IT Audit, IT Management en Governance. Hij was ondermeer werkzaam bij KPMG en is tegenwoordig mede-oprichter van i-INC.
Andere boeken door Mark Butterhoff
Inhoudsopgave
Preface
Introduction

1. Leading
2. Strategizing
3. Changing
4. Governing
5. Funding
6. Trending
7. Twelve ways to combat the silent enemy

Epilog
Figures & tables
Appendices
Aanbevolen live events...
Mensen die dit boek kochten, kochten ook...