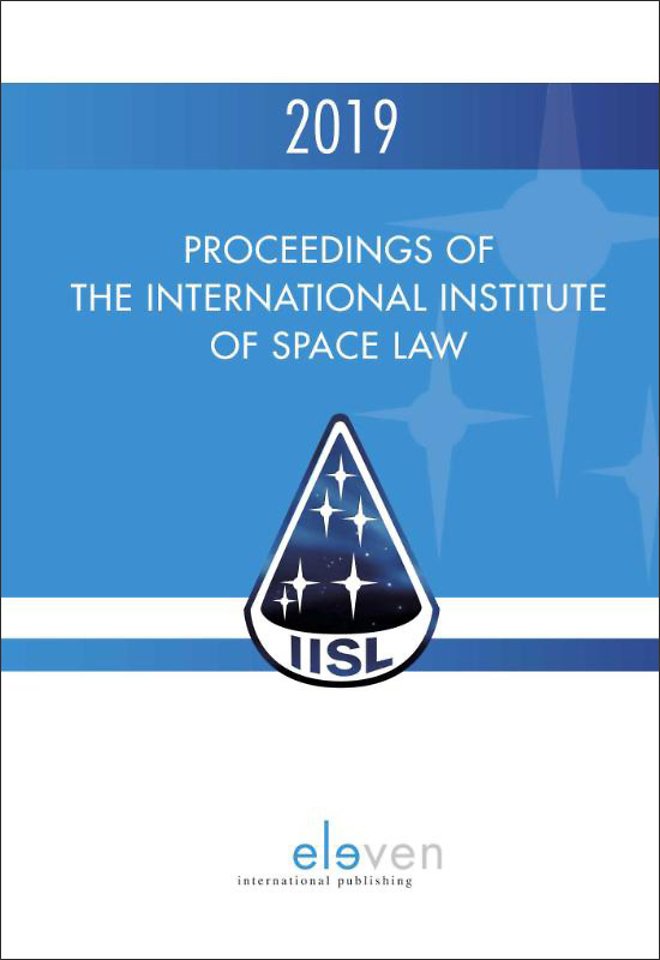 Jeb Blount, Tanja Masson-Zwaan, Kai-Uwe Schrogl
Proceedings of the International Institute of Space Law 2019
Specificaties
Gebonden, 584 blz. | Engels
Eleven | 1e druk, 2020
ISBN13: 9789462361645
Eleven
1e druk, 2020
9789462361645
Op werkdagen voor 23:00 uur besteld, volgende dag in huis
Samenvatting
This volume contains the proceedings of the 62nd Colloquium on the Law of Outer Space held in Washington DC, USA in October 2019, as well as the report of the IISL Standing Committee on the Status of International Agreements Relating to Activities in Outer Space and the Report of the IISL Working Group on Cyber Law.
Specificaties
Verschijningsdatum:
23-12-2020
Inhoudsopgave
Preface: Highlights of the IISL in 2019 xi
Kai-Uwe Schrogl
About the IISL xvii
Board of Directors 2019 xix
New IISL Members Elected in 2019 xxi
Standing Committee on the Status of International Agreements Relating to Activities in Outer Space xxiii
Report of the IISL Working Group on Cyber Law xli
62nd IISL COLLOQUIUM ON THE LAW OF OUTER SPACE WASHINGTON, D.C., UNITED STATES

1. 11th Nandasiri Jasentuliyana Keynote Lecture on Space
Law and Young Scholars Session
International Cooperation Mechanisms in Outer Space Activities for the Next Decade 3
Setsuko Aoki
Nandasiri Jasentuliyana Keynote Lecture on Space Law On-Orbit Servicing: Repairing, Refuelling and Recycling the Legal Framework 15
Thea Flem Dethlefsen Winner of the 2019 Isabella H.Ph. Diederiks-Verschoor Award for Best Paper by a Young Author
The Importance of an International Funding Mechanism for Active Debris Removal in LEO 29
Claudiu Mihai Tăiatu
The Role of International Territorial Administration in (semi)Permanent Lunar Presence 41
Matija Renčelj
The Plight of Valinor: A Realist's Approach to the Development of Space Law in Future Mars Colonial Society 53
Marshall Mckellar and Yvonne Vastaroucha
A Treaty of Many Minds: An In-Depth Look at the Travaux Préparatoires of the Principles Declaration of 1963 71
Howard Chang
Space Mining and Environmental Protection: Recycling International Agreements into New Legal Practices 83
Gabrielle Leterre
Analyzing the Legality of Military Use of Resources Extracted from the Moon under the Outer Space Treaty 95
Tejas Bharadwaj and Harshith Iyer
The Documentation of Human Rights Violations by Satellites: The Satellite Sentinel Project 109
Ingrid Barbosa Oliveira and Jonathan Percivalle de Andrade

2. Dispute Settlement in Space Law: Are We Ready for the
Commercial Challenge?
The Subjects of International Space Law 125
Kuan-Wei Chen, Ram Jakhu and Steven Freeland Disputes in Satellite Communications: Settlement Mechanisms Available for Breach of Coordination Agreements 145
Elina Morozova and Yaroslav Vasyanin
Arbitration in Space-Related Disputes: A Survey of Industry Practices and Future Needs 159
Viva Dadwal and Eytan Tepper
Dispute Settlement and Decision Making in Relation to the Scarce Orbit-Spectrum Resource – 'Preventive' and 'Reactive' ITU Procedures and Their Relevance for Private Sector Actors 181
Simona Spassova
Article VI Outer Space Treaty as a Gateway to Extending State Immunity before Domestic Courts to Non-Governmental Space Operators 195
Michael Friedl and Maximilian Gartner

3. National Space Legislation – Harmonisation and Enforcement
The Fragmentation of International Space Law 213
Vincent Seffinga and Mari Eldholm
Scoping National Space Law: The True Meaning of 'National Activities in Outer Space' of Article VI of the Outer Space Treaty 227
Frans von der Dunk
What Level of Detail in National Commercial Space Legislation Is Ideal for the Harmonization and Enforcement of Such Legislation and the Outer Space Treaty? 239
Matthew Schaefer
Emerging Economies' Contributions to Space Activities and Legislation 253
Sylvia Ospina
Space Legislation of Luxembourg 267
Mahulena Hofmann
The Space Industry Act 2018: Unlocking the UK Space Economy? 273
Christopher Newman
Third Time's the Charm: The History, Revival, and Future of the National Space Council 285
Hannah Kohler

4. Space Traffic Management: From Space Situational Awareness and Space Surveillance and Tracking to Developing Rules of the Road Space Traffic Management: Not Just Air Traffic Management for Outer Space and More Than Data Analytics 301
Stefan Kaiser
Further Out: Keeping Track of Deep Space Objects 317
Jonathan McDowell
Earth, Solar and Lunar Lagrangian Point Management in the Mitigation of Anti-Competitive Conduct and Management of Natural Monopolies in Commercial and Military Space Activities 329
Thomas Green, Patrick Neumann, Kent Grey and Trevor Sandlin
Ignitions for Global STM Rule-Making Processes – Legal Perspectives why Operators Have to Take Initiatives 343
Yu Takeuchi
New Standards for an Old Problem: Domestic Law & Regulation Takes on STM 353
Michael Dodge
Applying Space Traffic Management in Policy & Regulatory Design 367
Fatheya Al Sharji
"Three Country-Trusted Broker": An Effective Publi-Private Model for Orbital Debris Remediation 373
Chuck Dickey
Showing Our Hand: The Case for Open SSA Data 391
P.J. Blount
5. Space Mining: National Authority? International Authority? Both? Reviewing the Moon Agreement or Amending the Outer Space Treaty? – Views of UNCOPUOS Member States 399
Irmgard Marboe
An International Registry and Registrar for Priority Rights to Extract Resources on Celestial Bodies 417
Mark Sundahl
Get Your Filthy Hands off my Asteroid: Priority and Security in Space Resources 425
Daniel Porras and P.J. Blount
Space Mining: The Delineation between National and International Jurisdiction 437
Stephan Hobe and Rada Popova
Multilateral Agreements for Real Property Rights in the Solar System 449
Rand Simberg
Regulation of Commercial Mining of Space Resources on Celestial Bodies at National and International Level: An Analysis of the 1979
Moon Agreement and the National Law Approach 459
Vinicius Aloia
Prescribing the Best Medicine for the Struggling Space Mining Industry: An International Regulatory Agency or a New NASA Office? 473
Michael Weinhoffer
Space Mining: The Need for International Global Governance 483
Ermanno Napolitano

JOINT IISL-IAF SESSION
Remediation of Space Debris: A Fundamental Legal Challenge? Space Debris: Between Unity and Fragmentation – Risk as a Static Principle with Dynamic Outcomes 499
Ward Munters
Out into the Dark: Removing Space Debris from the Geostationary Orbit 513
Martha Mejía-Kaiser
Proposal of Governmental Compensation for Damages in Orbital Activities Especially for Space Debris Removal 527
Mihoko Shintani

Author Index 537
Mensen die dit boek kochten, kochten ook...